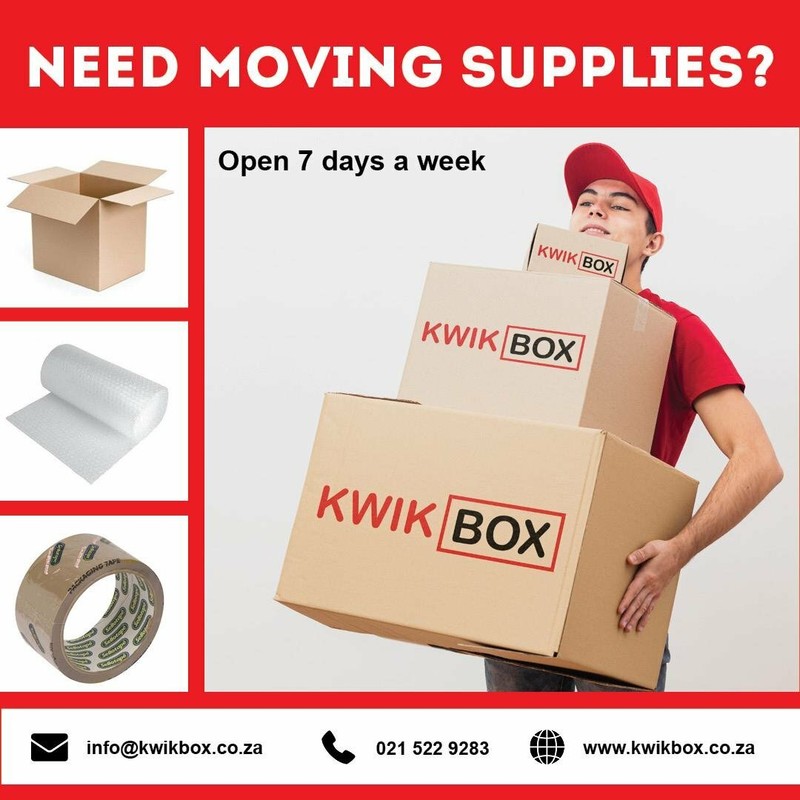 Description
Need Moving Supplies?

We are a packaging supplies company with two new stores Now open in Sunningdale and Paarden Eiland open 7 days a week for all your boxes bubble wrap and wrapping supplies.

Feel free to contact us at any time.

www.kwikbox.co.za
info@kwikbox.co.za
082 300 7715

Items Available: 1


Id Subtitle 1068538665
KWIK BOX
Selling for 4+ years
Active Ads 69
Contact KWIK BOX
Send Message
By clicking "Send" you accept the Terms of Use and Privacy Notice and agree to receive newsletters and promo offers from us.
Related Ads
OK sure Kaapstad Party Event HIRE Office 076 3131744 watsaap friendly 2022 Price List Saterday special 3x3 castle plus 10 kids package R500 Sunday special 2 kids rides 3x3 jumping castle R700 Jumping castles 3x3 Jumping Castle R350 4x4m Jumping Castle R400 Blue Boy CastleR450 Princess CastleR450 3in1 slide castle R500 Balls R50 Jumping castle 3x4 m with roof R450 4x3 Jumping Castle with roof R450 Water slide 8m R400 Kids electric rides R200 each - ages 1 to 7 years Soft play 10 piece R600 15 piece R750 20 piece R950 Round back drop 1.2 x 1m R400 Grass Back Drop 1.3 x 1 m R500 Pallet Rustic Back Drop 1.2 x 1 m R450 Balloon garland R300 x 40 balloons Sticker R170 Adult throne chair R300 each Kids throne chair R200 available in various colors Table & Chair packages include (tables chairs tables covers chair covers with tie backs ) 10 kids R250 15 kids R350 20 kids R500 Plates Cups Serviettes themed R6 each Party numbers R150 each Popcorn Machine includes kernels oil spice bags x 30 guest R400 Candy floss machine includes suger x 30 bags & Sticks R450 Waffle Stick Machine x Batter sticks for x 30 guest R300 Bubble machine plus 500 ml liquid R250 Styrofoam cut out themed 30cm R40 Arcade game 1000 in 1 R850 Fluffy Party mat R90 all colours available Cake stand Stainless steel R40 Plastic Cake StandR30 Cup cake stand plastic R30 Wood Stand R40 Stainless steel R50 Personal banner R300 1,5 m Champagne Glass R5 Hi Ball Glass R5 Dinner plate R5 Side plate R5 Extension lead cord 5 m R30 Photo board 1.2 m R150 Paw Patrol, X Men , Hello Kitty , Batman and other character photo Boards available Grass place mats R10 Wooden Server R10 Boho Rustic Picnic Tables R30 Fluffy Cushion R15 Candy Jars Small , Medium Large R10 R11 R12 Fork / knife / spoon R4 Juice Jugs R10 Extension lead 5 m R30 Trestle table R30 Table cloth R30 all colours available Stretch tents web tents Bedouin tents 3x5 m R700 4x6 m R800 5x7 m R900 6x8 m R1000 7x9 m R1100 8x10 m R1500 9x11 m R2000 wedding , reception, engagement tent 10 x12 m R4000 White ,Beige, cream ,red ,yellow available Plint stand small R80 Plint stand medium R100 Plint Stand large R120 Arcade game R900 Tie back R8 Over lay R12 Delivery available at cost Delivery Thursdays/ Fridays Collection sundays Cash on Delivery payment required Office available 9am to 9m Monday to Friday...
Century City, Cape Town, Western Cape 6 days ago
ASAP Hospitality services provides various types of staff for private or public events. 071 712 5097 for a free consultation....
Century City, Cape Town, Western Cape 12 days ago
Gumtree Safety Tips
1.Meet in a public space to see the item and exchange money.
2.Never send your item before receiving the money.
3.Never send or wire money to sellers or buyers.
Read More
Looking to Sell?
Whether you are selling your car, old cell phone or laptop, learn how much your item could be worth with our Gumtree Pricing Guide.
Read More